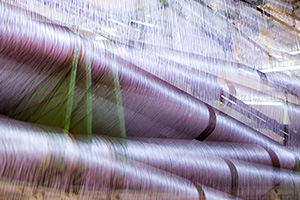 Our new series THE WEAVER, India 2017 has been chosen among the 12 finalists
of the ART OF ENGINEERING 2017/2018 award!
The final judging will take place at the end of Feburay when each artist will present his/her project to the jury.
We are very much looking forward to this event.
* * *
"ART OF ENGINEERING ist der interdisziplinäre FERCHAU-Kunstwettbewerb im Spannungsfeld von Kunst und Technik.
Den Gewinnern winkt ein attraktives Preisgeld. Motto in diesem Jahr: "binär.bewegt – Symbiosen von IT und Mobilität".
Kunst und Technik gelten als unvereinbare Gegensätze:
Kunst erwächst aus Schöngeist, Freigeist, Schöpfung. Technik nährt sich von Pragmatismus, Klarheit und Ratio.
Diese Trennlinie wollen wir bewusst anzweifeln und hinterfragen:
Blüht die Kunst im 21. Jahrhundert dank der neuen Technologien nicht auf?
Profitiert die Ingenieurwissenschaft nicht von kreativen und waghalsigen Ideen?
Um Antworten auf diese Fragen zu finden, schreibt FERCHAU nun zum fünften Mal
den mit 20.000 Euro dotierten Kunst- und Wissenschaftspreis aus: den ART OF ENGINEERING."
http://www.ferchau.com/de/de/kompetenzen/art-of-engineering

Jury:
Knut Braun (Vorstand Internationales Bionik-Zentrum)
Lars Funk (Verein Deutscher Ingenieure e.V., Leitung Bereich Beruf und Gesellschaft)
Ken Fouhy (Geschäftsführer VDI Verlag, Chefredakteur VDInachrichten)
Uwe Heinrich (Unicum-Verlag, Leiter Unternehmenskommunikation)
Dr. Patrick Hoyer (Fraunhofer-Gesellschaft e.V.)
Prof. Heinz-Jürgen Kristahn (Institut für Kommunikation und Design, Berlin)
Dr. Sabine Runde (Oberkustodin, Museum Angewandte Kunst Frankfurt)
Dr. Britta Schmitz (ehemals: Oberkustodin/Kuratorin Neue Nationalgalerie, Berlin)
Prof. Dr. Ulrich Schneider (Kunsthistoriker. Art Advice)
Prof. Dr. Georg Trogemann (Kunsthochschule für Medien Köln)
Dr. Kristina Zerges (ehemals: Pressesprecherin und Leiterin Öffentlichkeitsarbeit TU Berlin)