Ab morgen: Herzliche Einladung zur
Sommerausstellung "tierisch gut"
in der BBK Galerie im Kulturspeicher Würzburg.

"Zu den Tierdarstellungen in der bildenden Kunst,
von Höhlenmalerei bis Picasso, existieren viele beeindruckende Werke.
In dieser Ausstellung wird versucht an diese Werke zu erinnern,
aber auch aktuelle Darstellungen zu finden,
die sich zwischen Haustier – Verhätschelung und Massentierhaltung bewegen."

Wir werden zum ersten Mal unsere Arbeit Maha Ganesha öffentlich präsentieren.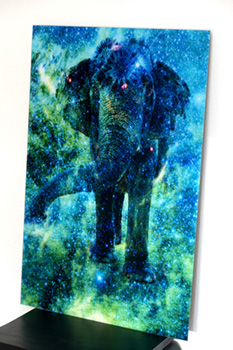 Es wird keine Vernissage geben,
dafür wurde aber ein super Teaser von Katrin Heyer
über die Ausstellung produziert.
Die Ausstellung geht vom
27. Juni bis 19. Juli 2020
Eintritt frei.
Öffnungszeiten: Fr+Sa / So: 11–18 Uhr
Mehr informationen gibt es hier:
http://www.bbk-unterfranken.de/ausstellungen/ausstellung2006.html
http://www.instagram.com/bbkgalerie
* * *
Opening tomorrow:
Cordial invitation to the
summer show "tierisch gut"
at BBK Galerie in Würzburg from
Sat June 27 until Sun July 19 2020.
We will be presenting Maha Ganesha for the first time to the public.
There will be no exhibition opening,
but a super teaser by Katrin Heyer about this exhibition has been produced.
Free entry.
Open: Fr+Sat 15 – 18:00 & Sun 11 – 18:00
More information on the gallery's website & Instagram:
http://www.bbk-unterfranken.de/ausstellungen/ausstellung2006.html
http://www.instagram.com/bbkgalerie